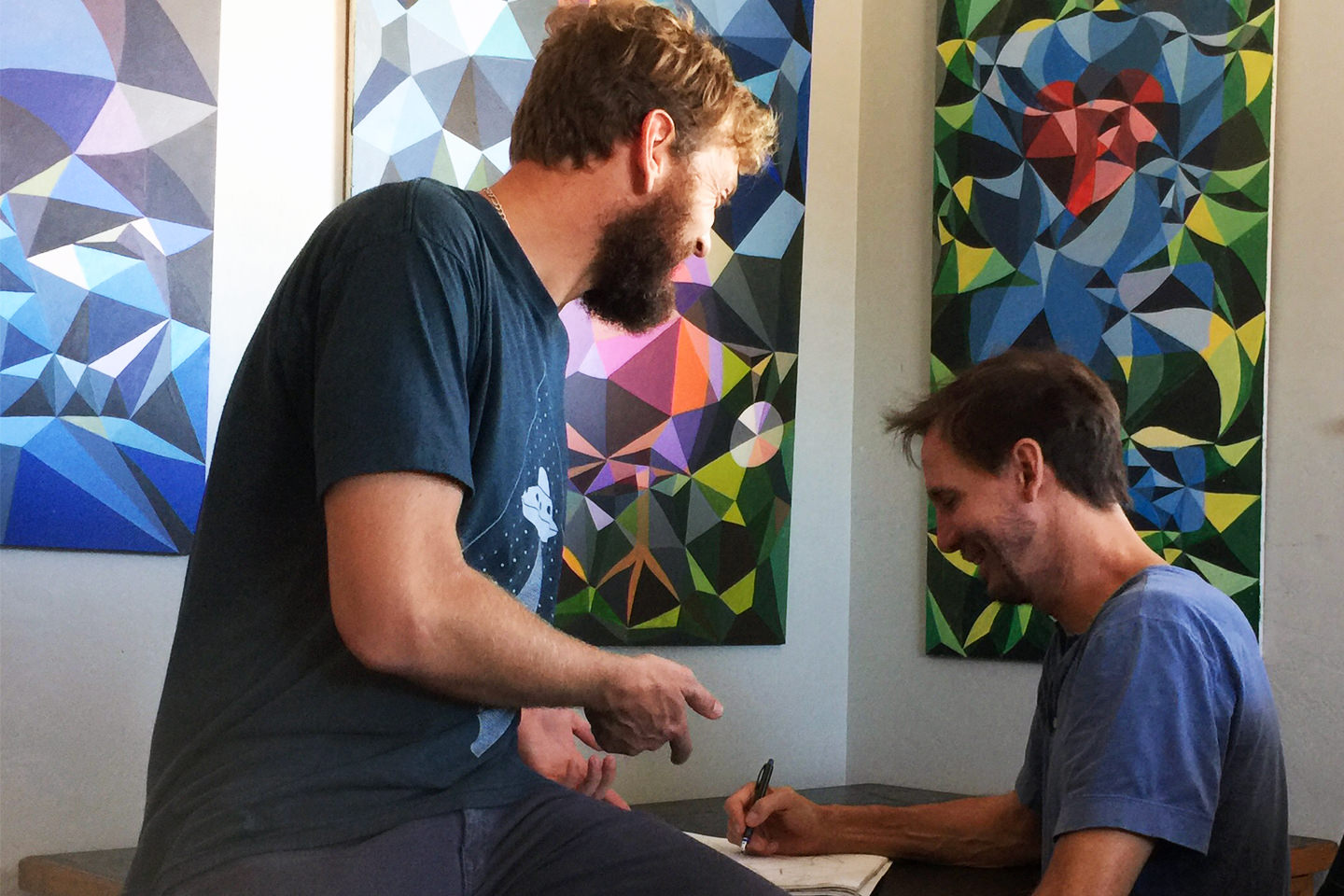 Honoring Jim Yuransky and his contributions to Down with Dystonia
Close your eyes and imagine a cool natural light lavished space, the relaxing San Diego patio of the artist and accomplished visualization expert, Jim Yuransky. Breathing in, you smell brilliantly bright fresh paint drying on canvases hung at eye level in every direction. It's easy to stare deeply into his geometric works, finished and in-progress, and find yourself visualizing a new idyllic place altogether. That's kind of the point. This is the place where Down with Dystonia, and much more, came to be.
Art is where countless imagination-bending paintings, assembled in Yuransky's personally developed style, Zedism, have jumped to life. It's the space where plans for numerous businesses and artistic ventures, those of Jim's and of his co-conspirators, have been crystallized. Through hours, days, and weeks of imagining what could be, he has aided in the facilitation of countless creative ideas and executions. The scattered notes that came as a result of his deeply conversational summer with our founder, Devin McClernan, provided the framework of our start-up non-profit organization.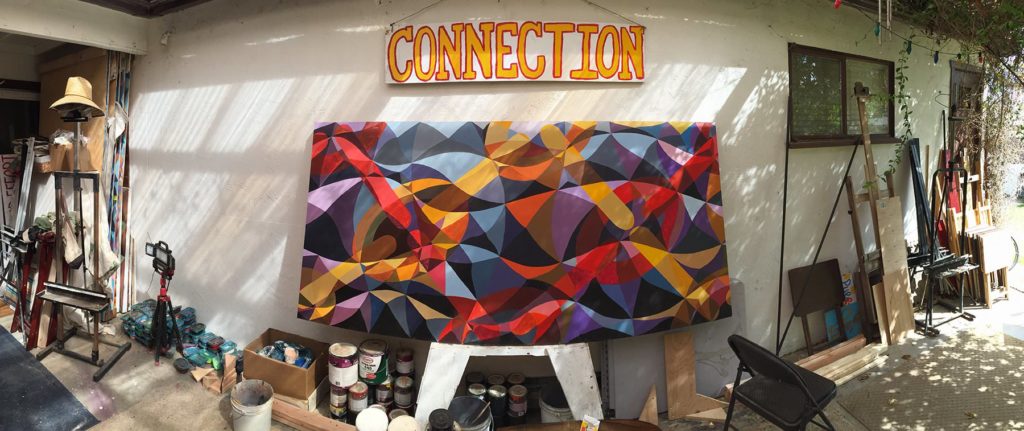 The two men met at an event bursting with live music and art, meant as a decompression gathering for a recent larger music and arts event. This theme would continue as they worked together, benefiting something they called Down with Dystonia for the first time, at Desert Hearts Music Festival 2015. Aiding in Jim's mega-sized interactive art installation for the weekend, Devin noted the enthusiasm with which his comrade presented his work and ideas, planting a seed for a personal approach built on the same palpable positive energy.
This enthusiasm translated into tangible progress. In the early 2010's, Devin spoke to many friends and family members about starting a non-profit, conversations universally met with moral support. Jim, though, offered much more. The two bonded over a shared interest in bringing people together. In time, they outlined a business plan, compiled management best practices, and curated a soul for the Down with Dystonia brand, each bringing to life the long-rooted passion growing in Devin since the day he came home from his successful DBS operation.
The color-soaked patio, and Jim's willing wisdom, incubated these concepts, helping to bring us to this very moment in time.
Three months into our first calendar year of activity, that established soul has come further into focus. Supporting our base initiatives of dystonia awareness and patient wellness, Down with Dystonia plans to utilize art and expression to better communicate and connect with our audience. These elements are a few that Jim will continue to develop as our Arts Advisory Council.
We are honored to have his input on all things art and advocacy. In describing our organization's pairing of the two concepts, he adds,
"Art is about opening new pathways in the brain and learning about oneself and the world by doing so. In neurology, and with dystonia especially, we try to learn how the brain gets it wrong sometimes, helping to understand this illness and others like it."
That symbiotic connectivity between people and art is one that both Jim and Devin highlight in their work. We are eternally thankful for Jim's ongoing contributions to our mission and cannot wait to see what beautiful ideas come together in his sunny San Diego studio in the future.