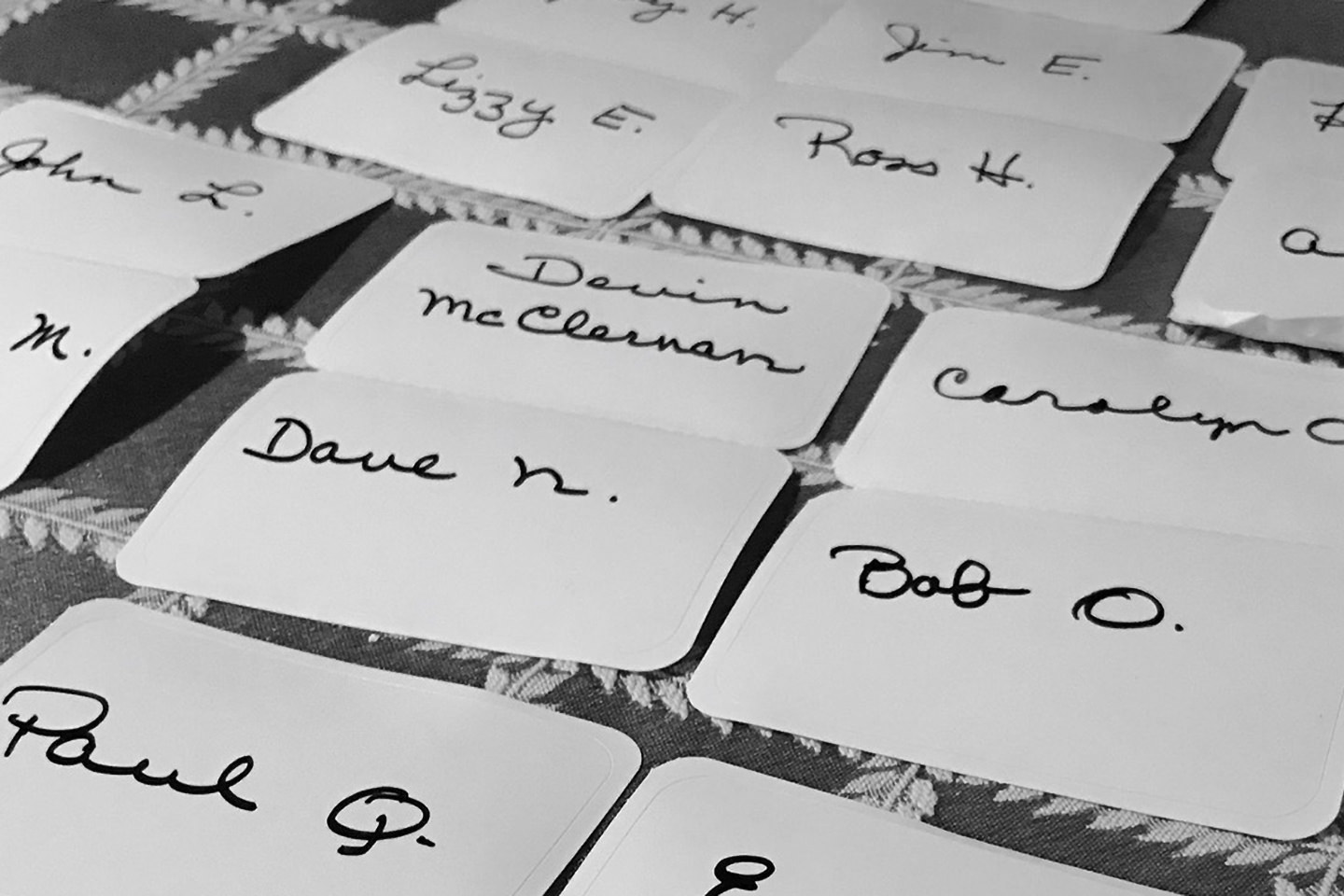 Gracious family contributor hosts inaugural Down with Dystonia fundraiser
Last month, the 56th annual Huntington Beach Boat Parade provided a colorful backdrop to the first Down with Dystonia fundraiser, a gathering ten years in the making. As dazzling displays of light and sound drifted across the glassy water outside, displays of love and generosity created an unmistakable buzz of positive energy inside. Welcoming nearly seventy guests, the event wrapped a year in which great progress was made and ambitious goals were set.
Amid a hum of professional networking and casual socializing, attendees were served a delicious array of hors d'oeuvres, cold beverages, and entrées. Many guests have known of Down with Dystonia since its early stages, and were eager to hear about the groundwork that's been laid for future fundraising and awareness activities. The boat parade, and holiday cheer in full-bloom, added to a casual and conversational atmosphere for all.
Devin McClernan, founder of Down with Dystonia, and his mother, board member Stephanie McClernan, first addressed the group to tell his emotional story of pain, patience, and growth. Watery eyes around the room conveyed a tangible sense of empathy and support, even from those already intimately familiar with the story's details.
Board members Kevin Hutton and Rick Tell spoke about their experiences working with Devin to develop the early stages of the organization. Both men shared enthusiastic optimism for the potential benefit that Down with Dystonia can have on patients and their families in the new year and beyond.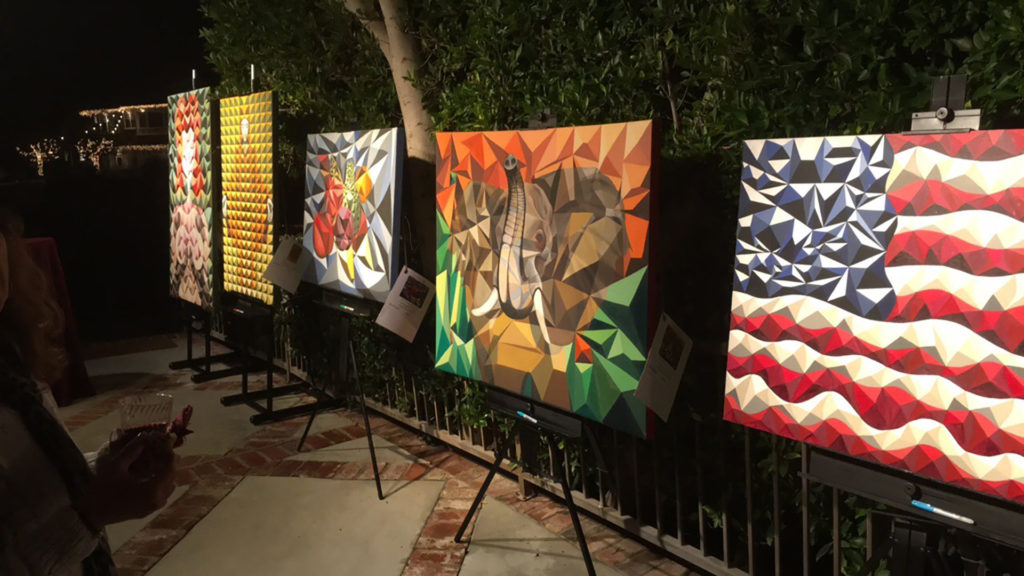 The mesmerizing Zedism paintings of Arts Advisory Council, Jim Yuransky, lined corridors and patio spaces of the venue, sparking the imagination and irresistibly pulling the gaze of each and every person in attendance. Jim, who also spoke eloquently about the role of art and creativity in community building, graciously presented his works to curious passersby, giving an insider perspective of modern art inspiration and production. From fine art to floating light displays, divine visual beauty was on display at every turn.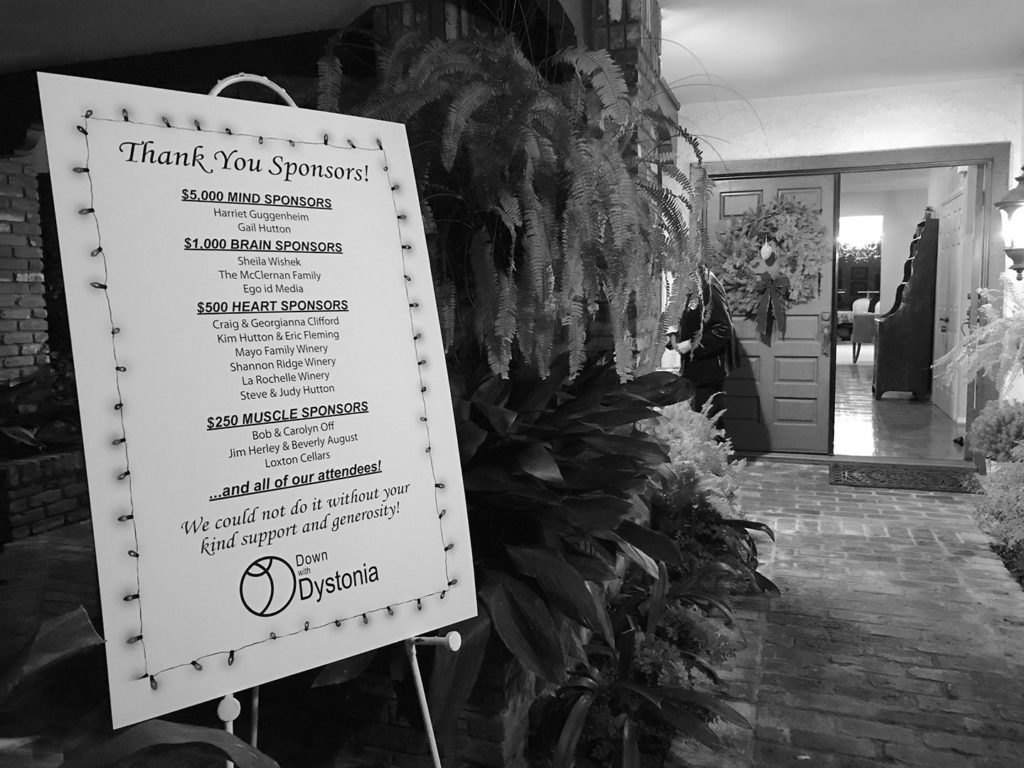 The event could not have been possible without heartfelt contributions by family, friends, and attendees. Gail Hutton, first and foremost, opened her doors for the evening, allowing her beautiful home to play host to a momentous step forward for our organization. We cannot be more thankful for her generosity. Ms. Hutton, as well as Harriet Guggenheim, and Kevin and Sandy Hutton, were top-level sponsors of the fundraiser, pledging a stunning five-thousand dollars apiece.
We also acknowledge, and appreciate beyond words, the graciousness of our other tiered sponsors, as shown.
Mind Sponsors – $5,000 Donation
Gail Hutton
Harriet Guggenheim
Kevin and Sandy Hutton
Brain Sponsors – $1,000 Donation
Charlie Matheis
Eric and Claire Block
Sheila Wishek
The McClernan Family
Heart Sponsors – $500 Donation
Steve and Judy Hutton
Gustavo and Liz Ungo
Craig and Georgeanna Clifford
Eric and Kim Fleming
Michael and Paula Block
Muscle Sponsors – $250 Donation
Steve Rein
Bob and Carolyn Off
Andrew Block
Beverly August
James Herley
Paul and Susan Quaqundah
Mark and Joan Sturgeon
Pauline and Rollin Sturgeon
Erin Wallin
Silent Auction Prize Contributions
This inaugural fundraiser was a semi-private event. We look forward to opening the attendance of future events to the public as our operation expands and our team grows. Please bookmark our homepage and follow us on social media for updates and future fundraising activities.